FIDE Arbiters' Seminar in Sochi, RUSSIA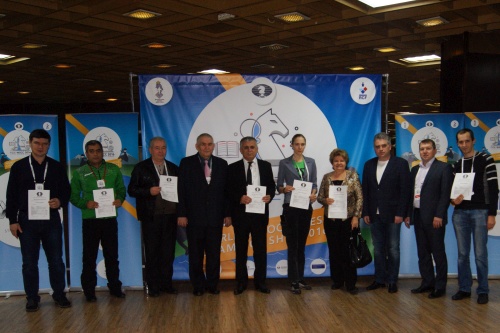 From 6 to 10 December 2016 a FIDE Arbiters' Seminar was organized in Sochi, Russia, by the Russian Chess Federation and under the auspices of FIDE.
The Seminar was organized during the 2016 World Schools Chess Championships.
The lecturer was IA Alexander Tkachev (RUS), FIDE Lecturer and Assistant lecturers were IA Alexander Ivanov (RUS).
The language of the Seminar was Russian.
Ten (10) arbiters from five (5) Federations (Russia, Turkmenistan, Kazakhstan, Uzbekistan and Azerbaijan) participated in the Seminar and seven (7) of them took part in the examination test that was held after the lectures.
The following succeeded in the test and they will be awarded a FA Norm, after the approval of the next FIDE Congress:
FIDE I.D. NAME FED.
——————————————————–
13716140 Meteleno, Yekaterina KAZ
13725572 Russanov, Pavel KAZ
13702491 Shimelkov, Vitaliy KAZ
14001900 Annaberdiyev, Serdar TKM
4179927 Mayorova, Lyudmila RUS
13408941 Dadashov, Idrak AZE
——— Khaydarov, Ikrom UZB
IA Takis Nikolopoulos
Chairman
FIDE Arbiters' Commission