FIDE Arbiters' Seminar in Singapore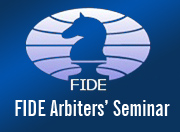 From 26 to 30 December 2010 a FIDE Arbiters' Seminar was organized in Singapore, by the Singapore Chess Federation and under auspices of FIDE.
The venue of the Seminar was the Stansfield Residence.
The lecturer was IA Ignatius Leong (SIN), FIDE General Secretary and FIDE Lecturer and Assistant lecturer was IA Osric Mooi (SIN).
7 arbiters from Singapore, Hong Kong, Macau and India participated in the seminar.
All of them participated in the examination test, held after the end of the lectures and succeeded in the test and will be awarded a norm or the title of the FIDE Arbiter, according to the article 3.10 of the Regulations for the titles of the Arbiters and after the approval of the next FIDE Presidential Board:
Lee, Chien – Earn (SIN) Norm FA
Tin, Chin – Leong (SIN) Norm FA
Chan, Kwai – Keong (HGK) Title FA
Ssegirinya, Joseph-Mary Muteesaasira (MAC) Title FA
Silveirinha, Jose (MAC) Title FA
Shah, Binita (Ms) (IND) Norm FA
Wong, Lim-Loong (SIN) Norm FA
IA Panagiotis Nikolopoulos
Chairman
FIDE Arbiters' Commission