FIDE ARBITERS' SEMINAR in Varadero, CUBA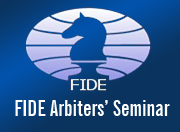 The Cuban Chess Federation is going to organize a FIDE Arbiters' Seminar in Varadero, Matanzas, Cuba, from 29 May to 4 June 2017, under the auspices of FIDE.
The Seminar will be in Hotel Barceló Arenas Blancas, in Varadero.
The Lecturer will be IA Bárbara López Chávez Mariño (CUB), FIDE Lecturer, and Assistant Lecturers will be IA Joseph María Benítez Delgado (ESP) and IA Roquelina Fandiño Reyes (CUB).
The lectures will be in Spanish language.
The Seminar will give norms for the FIDE Arbiter title, according to the regulations for the titles of the Arbiters.
For more detailed information please contact:
IA Serafín Chuit Pérez, E-mail: numicp@infomed.sld.cu , chuitperezserafin@gmail.com
Phone: (537) 8679674
(see application)