FIDE Arbiters' Seminar in Karachi, PAKISTAN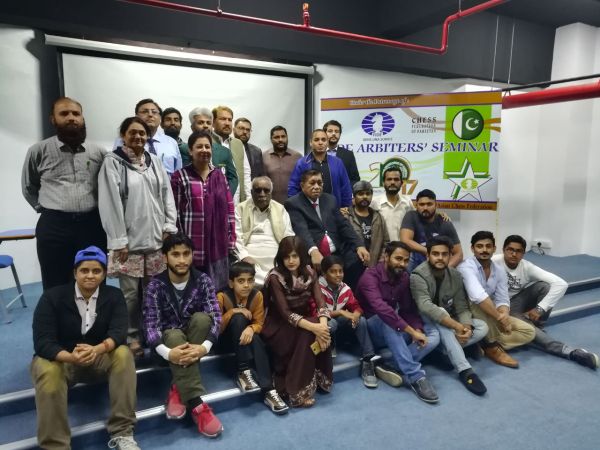 From 10 to 11 December 2017 a FIDE Arbiters' Seminar was organized in Karachi, Pakistan by the Sindh Chess Association, Karachi Chess Association and Pakistan Chess Academy, in cooperation with the Chess Federation of Pakistan, the Asian Chess Federation and under the auspices of FIDE.
The Lecturer of the seminar was IA Casto Abundo (PHI), FIDE Lecturer. Assistant Lecturer was IA Muhammad Wasif (PAK).
The venue of the Seminar was the IQRA University in Karachi.
The lectures were in English language.
Twenty four (24) people from Pakistan participated in the Seminar and all of them participated in the examination test, held after the end of the lectures.
The following succeeded in the test and they will be awarded a norm for the title of the FIDE Arbiter, after the approval of the next FIDE Presidential Board:
FIDE ID NAME FED SEX
—————————————————————————–
7804148 Ahmed Kamal PAK M
7801963 Ghanira Shafiq PAK F
7804032 Syed Aftab Hussain Jillani PAK M
7804164 Hassan Saleem PAK M
7804040 Misbah Asad PAK M
7804075 Nimra Asad PAK F
7803982 Azmatullah Khan PAK M
7800746 Zenobia Wasif PAK F
7801890 Muhammad Saad PAK M
7804156 Saleem Iqbal PAK M
7803990 Hafeez Ur Rehman PAK M
7803095 Syed Ahmed Mujtaba Gillani PAK M
7803494 Muhammad Abdullah Zia PAK M
7803931 Syed Muhammad Salman PAK M
7803958 Muhammad Junaid Khan PAK M
7803966 Syed Ali Tafseer PAK M
7803974 Wahib Ali Zaman PAK M
7803940 Imran Ali Zaman PAK M
IA Takis Nikolopoulos
Chairman
FIDE Arbiters' Commission