FIDE Arbiters' Seminar in Singapore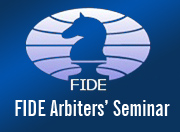 From 9 to 14 December 2009 a FIDE Arbiters' Seminar was organized in Singapore, by the Singapore Chess Federation and ASEAN Chess Academy, under the auspices of FIDE.
The Lecturer was IA Ignatius Leong (SIN), FIDE General Secretary, and Assistant Lecturers were IA Osric Mooi (SIN), member of the FIDE Swiss Pairings Committee and IA Thomas Hoe (SIN), Executive Director of ASEAN Chess Academy.
The following four (4) participants succeeded in the examination test that was after the lectures and will be awarded one norm of FIDE Arbiter, after the approval of the next FIDE Presidential Board:
Wong, Ngiam-Yee (SIN), Mrs Heng, Annie (SIN), Miss Choo, Li-Lin (SIN) , Petronic, Jovan (SRB) .
IA Panagiotis Nikolopoulos
Chairman
FIDE Arbiters' Commission