FIDE Arbiters' Seminar in Plovdiv, BULGARIA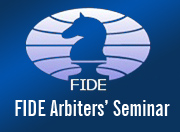 From 2 to 5 February 2011 a FIDE Arbiters' Seminar was organized in Plovdiv, Bulgaria, by the Bulgarian Chess Federation, under auspices of FIDE.
The venue of the Seminar was the Conference Hall of the "NOVOTEL" Hotel.
The lecturers were IA Vladimir Sacotic (MNE) and IA Sava Stoisavljevic (SRB), FIDE Lecturers and Assistant lecturers were IA Zdravko Nedev (BUL) and IA Rumen Angelov (BUL).
The lectures were in English language.
17 people from 3 Federations (BUL, CRO and MNE) participated in the Seminar.
All of them participated in the examination test, held after the end of the lectures and the following succeeded in the test and will be awarded a norm for the FIDE Arbiter title and after the approval of the next FIDE Presidential Board:
Surname , Name
FIDE ID
FED
Bednikov, Georgi
2912031
BUL
WGM Djingarova, Emilia
2903229
BUL
WIM Genova, Ruzka
2902273
BUL
Genova, Svetlana
–
BUL
Kolak, Mate
14504774
CRO
IM Kurtenkov, Atanas
2900459
BUL
Petkova, Veneta
2908573
BUL
Tomovska-Polendakova, Iliana
2902559
BUL
FM Popovic, Mladen
906069
MNE
FM Velchev, Hristo
2906481
BUL
Vladimirova, Diana
2908735
BUL
Yordanov, Nikolay
2906163
BUL
WIM Yordanova, Svetla
2905108
BUL
Zhivkov, Georgi
2907135
BUL
IA Panagiotis Nikolopoulos
Chairman
FIDE Arbiters' Commission