FIDE ARBITERS' SEMINAR in Toronto, CANADA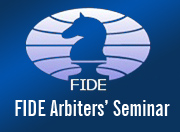 A FIDE Arbiters' Seminar is going to be organized from 13 to 15 July 2011 in Toronto, Canada, by the Chess Institute of Canada, in cooperation with the Canadian Chess Federation and under the auspices of FIDE.
The Lecturer will be IA Dirk De Ridder (BEL), Secretary of the FIDE Arbiters' Commission and FIDE Lecturer and Assistant Lecturer will be IA Hal Bond (CAN), member of the FIDE Arbiters' Commission.
The language of the Seminar will be English.
For more detailed information:
Mr. Hal Bond: e-mail : halbond@sympatico.ca