64th Internet based FIDE Arbiters' Seminar – Report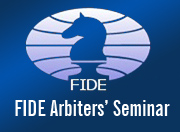 64h Internet Based FIDE Arbiters' Seminar was held from 10th to 14th March 2019.
It was organized by the Oman Chess Committee cooperation with Asian Chess Federation, and under the auspices of FIDE.
The Lecturer was IA/IO Mahdi Abdulrahim (UAE) FIDE Lecturer, the Technical Organizer was IA Mihail Prevenios (GRE), and the observer was IA Casto Abundo (Executive director of Asian Chess Federation).
The Language of the Seminar was in Arabic. daily lectures 10th -13th March 2019, from 18.00-22.00 Dubai Time (+4 GMT). 14th March 2019 was an examination test in Arabic language and English.
Twenty-Nine (29) participants are registered from eight (8) deferent federations attend the seminar, there were from LBA, OMA, KSA, PLE, IRQ, ALG, GEO and EGY. Twenty-Two (22) of them attended the exam. Nineteen (19) of them passed the examination test with 80%, which was held after the end of the lectures. They will be awarded a norm or the title of the FIDE Arbiter according to the regulations for the titles of Arbiters after the approval of the next FIDE Presidential Board.
| | | | |
| --- | --- | --- | --- |
| No | Surname | First name | Fide |
| 1 | MOSSAAB | BENHELAL | ALG |
| 2 | Antwa | Karim | EGY |
| 3 | Ahmed | Mukhtar | EGY |
| 4 | Ahmed Kamel | Sherif | EGY |
| 5 | Nasser | Mohamed | EGY |
| 6 | Ali Hamood | Almahrzi | OMA |
| 7 | ABDUL AZIZ | AL SHUKAILI | OMA |
| 8 | Dilpak, Ali | Hamzah | IRQ |
| 9 | IMAN | AKBAR | IRQ |
| 10 | Abdullah Mustafa | Ali | IRQ |
| 11 | Aswad Azeez | Abdulazeez | IRQ |
| 12 | Gawad Kadhum | Mustafa | IRQ |
| 13 | Sultan | Al Salami | KSA |
| 14 | Abdelillah | Al Otaibi | KSA |
| 15 | Dalia | Alsemairi | KSA |
| 16 | Saleh | Abdelrahman | KSA |
| 17 | Mohamed | Al Otaibi | KSA |
| 18 | Mohamed | Sagir | LBA |
| 19 | Meri | Zhorzholiani | GEO |
IA Laurent Freyd
Chairman
FIDE Arbiters` Commission