65th Internet based FIDE Arbiters' Seminar – Report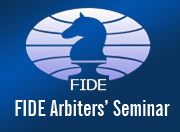 65th Internet Based FIDE Arbiters' Seminar was held from 11th to 17th June 2019.
It was organized by the Chess Confederation for America, and under the auspices of FIDE.
The Lecturer was IA Santiago Garcia Ramos (MEX) FIDE Lecturer, the Technical Organizer was IA Jorge Vega Fernandez (GUA).
The Language of the Seminar was in Spanish.
Thirty (30) participants are registered from twelve (12) deferent federations attend the seminar, there were from ARG, CHI, COL, CRC, CUB, DOM, ESA, GUY, HON, NCA, PAN and VEN. Twenty-Two (22) of them attended the exam. Seven (7) of them passed the examination test with 80%, which was held after the end of the lectures.
The following succeeded in the test and they will be awarded a norm for the title of the FIDE Arbiter, after the approval of the next FIDE Presidential Board:

| | | |
| --- | --- | --- |
| FIDE ID | Name (as on FIDE Profile) | FED |
| 3416461 | Garces Garcia, Carlos Alfredo | CHI |
| 4429427 | Ribero, Guillermo Fernando | COL |
| 134775 | Kiszkiewicz, Ivan | ARG |
| 6500625 | Carvajal Gorgona, Jonathan | CRC |
| 4458818 | Rojas Villamil, Heliodoro | COL |
| 119512 | Lyzymysiuk, Pablo | ARG |
| 4456521 | Diaz Gonzalez, Hernan | COL |
IA Laurent Freyd
Chairman
FIDE Arbiters` Commission