FIDE ARBITERS' SEMINAR in Doha (Qatar)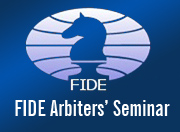 A FIDE Arbiters' Seminar is going to be organized from 06/11/2019 to 09/11/2019 in Doha, Qatar, by the Qatar Chess Association, under the auspices of FIDE.
The Lecturer will be IA Pahlevanzadeh, Mehrdad (IRI), FIDE Lecturer and the Assistant Lecturer will be IA Ibrahim, Yousef Khalil (QAT).
The language of the Seminar will be English with translation into Arabic.
The Seminar will give norms and titles of FIDE Arbiter, according to the Regulations for the titles of Arbiters.
For more detailed information: