FIDE ARBITERS' SEMINAR in Concepcion (Chile)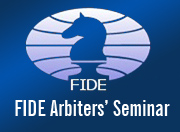 A FIDE Arbiters' Seminar is going to be organized from 09/12/2019 to 13/12/2019 in Concepcion, Chile, by the Chilean Chess Federation, under the auspices of FIDE.
The Lecturer will be IA Martinez Garcia, Jose (MEX), FIDE Lecturer and the Assistant Lecturer will be IA Barrios Lara, Adolfo Gerardo (CHI).
The language of the Seminar will be Spanish.
The Seminar will give norms and titles of FIDE Arbiter, according to the Regulations for the titles of Arbiters.
For more detailed information:
Federación de Ajedrez de Chile – AJEFECH
Daniel Gonzalez Gonzalez
Phone: +56987226488