FIDE Arbiters' Seminar in Klaksvik, FAROE ISLANDS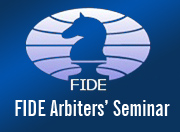 From 16 to 21 August 2011 a FIDE Arbiters' Seminar was organized in Klaksvik, Faroe Islands, by the Faroese Chess Federation and under the auspices of FIDE.
The Seminar was held parallel to the 2nd Small Nations Chess Championship
The lecturer was IA Mikko Markkula (FIN), FIDE Qualification Commission Chairman and FIDE Lecturer.
The lectures were in English language.
7 people from Faroe Islands, Island and Jersey Islands participated in the Seminar and in the examination test, held after the end of the lectures.
The following succeeded in the test and they will be awarded the title of the FIDE Arbiter (according to the article 3.10 of the Regulations for the titles of Arbiters), after the approval of the next FIDE Congress:
Finnbjorn Vang (FAI)
Graham Mooney (JCI)
Herborg Hansen (FAI)
Robert Lagerman (ISL)
Hans Hjalfi Skaale (FAI)
IA Panagiotis Nikolopoulos
Chairman
FIDE Arbiters' Commission