FIDE Arbiters' Seminar in Odense, DENMARK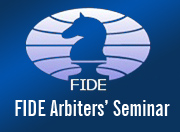 From 9 to 11 September 2011 a FIDE Arbiters' Seminar was organized in Odense, Denmark, by the Chess Federation of Denmark and under the auspices of FIDE.
The lecturer was IA Mikko Markkula (FIN), FIDE Qualification Commission Chairman and FIDE Lecturer and Assistant Lecturer was IA Lars Bech Hansen (DEN).
The lectures were in English language.
23 people from Denmark, Sweden, Norway, Netherlands and Poland participated in the Seminar and in the examination test, held after the end of the lectures.
The following succeeded in the test and they will be awarded a norm for the title of FIDE Arbiter, after the approval of the next FIDE Congress:
Aleksander Sokolski (POL)
Jan Krabbenbos (NED)
Sverre Johnsen (NOR)
Inge Sandstad Skrondahl (NOR)
Tarjei J Svendsen (NOR)
Jan Wikander (SWE)
Peter Grau (DEN)
Paul Jacobsen (DEN)
Byrial Jensen (DEN)
Morten Frank Jensen (DEN)
Thomas Larsen (DEN)
Brian Lorenzen (DEN)
Chresten Nielsen (DEN)
Jonas Nilsson (DEN)
Aage Dalstrup Olsen (DEN)
Peter Erik Olsen (DEN)
Hans Milter Pedersen (DEN)
Bjarne Petersen (DEN)
Martin Reib Petersen (DEN)
Tom Petri Petersen (DEN)
Johnny Koust Rasmussen (DEN)
Tom Skovgaard (DEN)
Bjarne Tornbjerg (DEN)
IA Panagiotis Nikolopoulos
Chairman
FIDE Arbiters' Commission