FIDE ARBITERS' SEMINAR in Herzliya, ISRAEL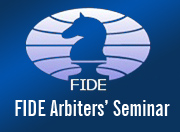 A FIDE Arbiters' Seminar is going to be organized on 8, 12 and 15 December 2011 in Herzliya, Israel, by the Israeli Chess Federation, in cooperation with the Herzliya Chess Club and under the auspices of FIDE.
The Lecturer will be IA Mordechai Shorek (ISR), FIDE Lecturer and Assistant Lecturers will be IA Shlomo Kandelshine (ISR), IA Malkiel Peretz (ISR) and IA Abraham Dorner (ISR).
The venue of the Seminar will be the Herzliya Chess Club.
For more information:
IA Dr. Shlomo Kandelshine
kandelsh@hotmail.com , +972-52-268-3850
(see application and registration form)