FIDE Arbiters' Seminar in Gatwick, ENGLAND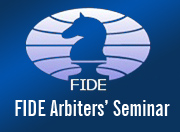 From 28th to 30th October 2011 a FIDE Arbiters' Seminar was organized in Gatwick, England by e2e4 Chess and the Chess Arbiters' Association, in cooperation with the English Chess Federation and under the auspices of FIDE.
The venue of the Seminar was the Crowne Plaza Hotel (London Gatwick Airport).
The Lecturer was IA David Sedgwick (ENG), FIDE Lecturer, and the Assistant Lecturer was IA Sean Hewitt (ENG).
The lectures were in the English language.
11 people from England and Ireland participated in the Seminar and in the examination test held after the lectures. The following succeeded in the test and will be awarded a norm for the title of FIDE Arbiter after the approval of the FIDE Presidential Board.
Name Federation FIDE Code
Rory Delaney IRL 2502208
Pat Fitzsimons IRL 2502526
Gerry Graham IRL 2500590
Alex Holowczak ENG 418668
Ted Jennings IRL –
Pete Morriss IRL 2500230
Jack Rudd ENG 405736
Brian Scully IRL –
Kevin Thurlow ENG 406104
IA Panagiotis Nikolopoulos
Chairman
FIDE Arbiters' Commission