FIDE Arbiters' Seminar in London, ENGLAND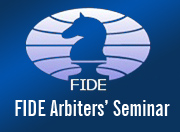 From 5 to 9 December 2011 a FIDE Arbiters' Seminar was organized in London, England, by Chess in Schools and Communities and the Chess Arbiters' Association, in cooperation with the English Chess Federation and under the auspices of FIDE.
The venue of the Seminar was the Olympia Conference Centre, Kensington, London.
The Lecturers were IA Alex McFarlane (SCO), FIDE Lecturer, and IA David Sedgwick (ENG), FIDE Lecturer.
The lectures were in the English language.
Two (2) people from Scotland and Latvia participated in the Seminar and in the examination test held after the lectures. Both succeeded in the test and, as indicated below, they will be awarded a FA Norm or the FA Title (according to Art 3.10 of the Regulations for the Titles of Arbiters) after the approval of the next FIDE Presidential Board.
Name Federation FIDE Code Award
Andrew Howie SCO 2403986 FA Title
Vairis Kurpnieks LAT 11602074 FA Norm
IA Panagiotis Nikolopoulos
Chairman
FIDE Arbiters' Commission