FIDE Arbiters' Seminar in Moscow, RUSSIA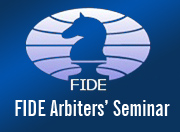 From 1 to 4 February 2012 a FIDE Arbiters' Seminar was organized in Moscow, Russia, by the Moscow Chess Federation, in cooperation with the Russian Chess Federation and under the auspices of FIDE.
The Lecturer was IA Andrzej Filipowicz (POL), FIDE Lecturer, and Assistant Lecturer was IA Artem Akhmatov (RUS).
Ten (10) arbiters from Russia, Ukraine, Belorussia, Vietnam, Afghanistan and Kazakhstan participated in the Seminar and in the examination test held after the lectures.
The following succeeded in the test and they will be awarded a FA Norm, after the approval of the next FIDE Presidential Board:
Name FIDE I.D. Fed.
———————————————————
Asefi, Zaheeruddeen 11700025 AFG
Berlin, Tatiana 13501445 BLR
Bunbich, Vitaly 24192848 RUS
Duong, Thanh Binh 12404543 VIE
Ganskaya, Elena 14120429 UKR
Popova, Natalija 13500295 BLR
Shamov, Evgeniy G. 34109967 RUS
Shapiro, Jury 4155491 RUS
Staratorzhskiy, Vladimir 24120227 RUS
Uteshev, Arsen 13704583 KAZ
IA Panagiotis Nikolopoulos
Chairman
FIDE Arbiters' Commission