FIDE Arbiters' Seminar in Brasilia, BRAZIL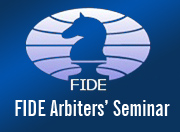 From 5 to 9 September 2012 a FIDE Arbiters' Seminar was organized in Brasilia city, Brazil, by the Brazilian Chess Federation and under the auspices of FIDE.
The lecturer was IA Antonio Bento (BRA), FIDE Lecturer.
The venue of the Seminar was the "Torre Palace" Hotel.
The lectures were in Portuguese language.
Fifteen (15) Arbiters from Brazil participated in the Seminar and thirteen (13) of them participated in the examination test, held after the end of the lectures. The following succeeded in the test and will be awarded a norm for the title or the FIDE Arbiter, after the approval of the next FIDE Presidential Board:
Carlos Alexander Costa Alves (BRA)
Ernesto Guevara Batista Reis (BRA)
Francisco Ari Maia Jr. (BRA)
Henrique Silva Cardoso (BRA)
Vagner Almeida Lima (BRA)
IA Panagiotis Nikolopoulos
Chairman
FIDE Arbiters' Commission