FIDE ARBITERS' SEMINAR in Pulawy, POLAND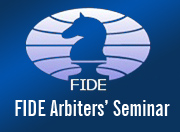 A FIDE Arbiters' Seminar is going to be organized from 7 to 9 December 2012 in Pulawy, Poland, by the Lublin Chess Federation, in cooperation with the Polish Chess Federation and under the auspices of FIDE.
The Lecturer will be IA Andrzej Filipowicz (POL) FIDE Lecturer and Assistant Lecturer will be FA Bogdan Obrochta (POL).
The venue of the Seminar will be the hotel "IUNG" in Pulawy.
The language of the Seminar will be English or Russian, with translation to Polish.
For more detailed information:
Mr. Krzysztof Gora phone: +48 792 02 33 96 and +48 533 98 66 57
e-mail: goraniwa@wp.pl
IA Andrzej Filipowicz
Phone +48-502 091 726 email: a.filipowicz@szachista.com
(see application)