ARB Training Programme – Session 01
The launch of a new programme is always a special moment. We wanted this first session to embody the ambition of the ARB Commission to embrace our whole community of arbiters and support as many federations as possible, through the composition of the group:
31 arbiters from 31 Federations! All 4 continents represented.
Men (24) and Women (7)
National Arbiters, FIDE Arbiters and International Arbiters
Experienced online arbiters and beginners
We are thankful for the spontaneous feedback of one of the participants to our Education Team Leader, after the first lecture of the course:
Hi Alex,
That was excellent, as you may be aware, I have been doing online stuff at least once a month and got involved with the British as well so, even with that sort of experience, it was good to cover all the basics and wrinkles that have come up. If the rest of the course is the same as that it will be well worth it.
The mind map thing will be very useful as that should evolve through all the courses as others input things that we didn't think about.
John McNicoll (SCO)
Session 01 took place on the 12-13-14-15 April 2021. The following participants attended, from 31 federations.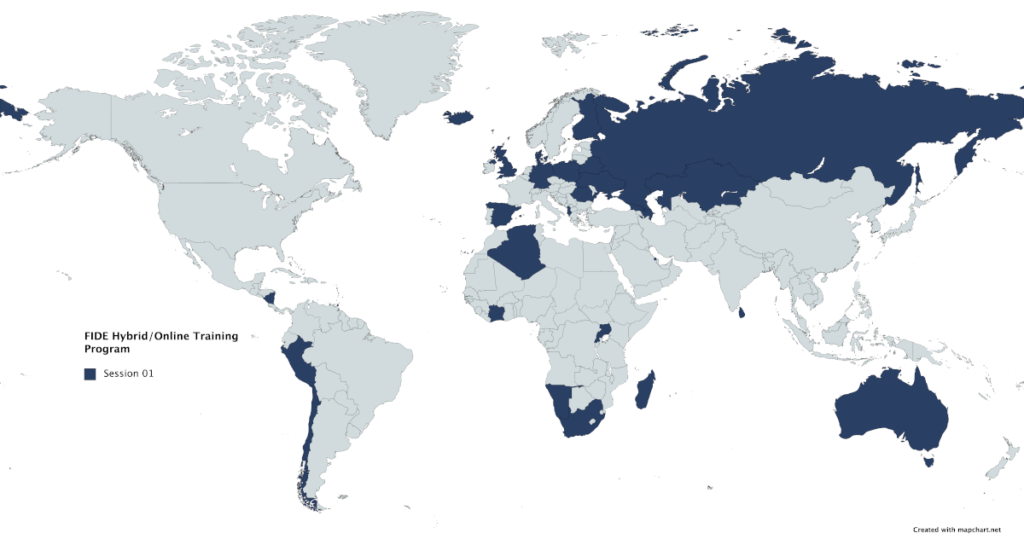 | Title | Arbiter | Federation |
| --- | --- | --- |
| NA | Alaraibi, Mahmood | BRN |
| IA | Bauyrzhan, Kausar | KAZ |
| IA | Berti Contreras, Lorenginis | CHI |
| IA | Collaku, Marin | ALB |
| NA | Esmonde, David | AUS |
| NA | Gaitan, Norlan | NCA |
| IA | Griffith, Trevor | BAR |
| IA | Kadimova, Ilaha | AZE |
| FA | Kouya, Tyeoulou Bernadin Franklin | CIV |
| IA | Larkin, Sergii | UKR |
| FA | Lauronen, Jouko | FIN |
| NA | McNicoll, John D | SCO |
| FA | Mouton, Gerton | NAM |
| IA | Nicula, Dinu-Ioan | ROU |
| NA | Noel, Roderick | TTO |
| IA | Perez Llera, Javier | ESP |
| IA | Polovina, Elena | RUS |
| IA | Popova, Natalija | BLR |
| NA | Rakotoniaina Tiana Johanna | MAD |
| IA | Rasmussen, Per | DEN |
| FA | Rugabira, Girizina Christella | RWA |
| NA | Sigurdarson, Tomas Veigar | ISL |
| IA | Siradze, Salome | GEO |
| IA | Sokolski, Aleksander | POL |
| IA | Tabti, Merouane | ALG |
| FA | Taljaard, Karen | RSA |
| IA | Turyahabwe, Christopher | UGA |
| IA | Vergara Palomino, Jorge Luis | PER |
| NA | Wagener, Claude | LUX |
| FA | Weerasekara, Tharindu | SRI |
| IA | Wolter, Jens | GER |