ARB Training Programme – Sessions 10-11a-11b
This week was definitely a ramp-up in our training programme!
Using the time slots which we could now call "standard", 12:00-14:00 CEST and 19:00-21:00 CEST, we could arrange 3 sessions over the last 4 days. That means the evening slot even saw 2 sessions delivered in parallel.
A few new federations joined the programme, while 88 of the 90 registered participants for the week actually attended.
We are on good tracks to reach 500 trained arbiters by the end of the month!
Sessions 10, 11a and 11b took place on the 10-11-12-13 May 2021. The following participants attended, cumulating 134 federations in the programme: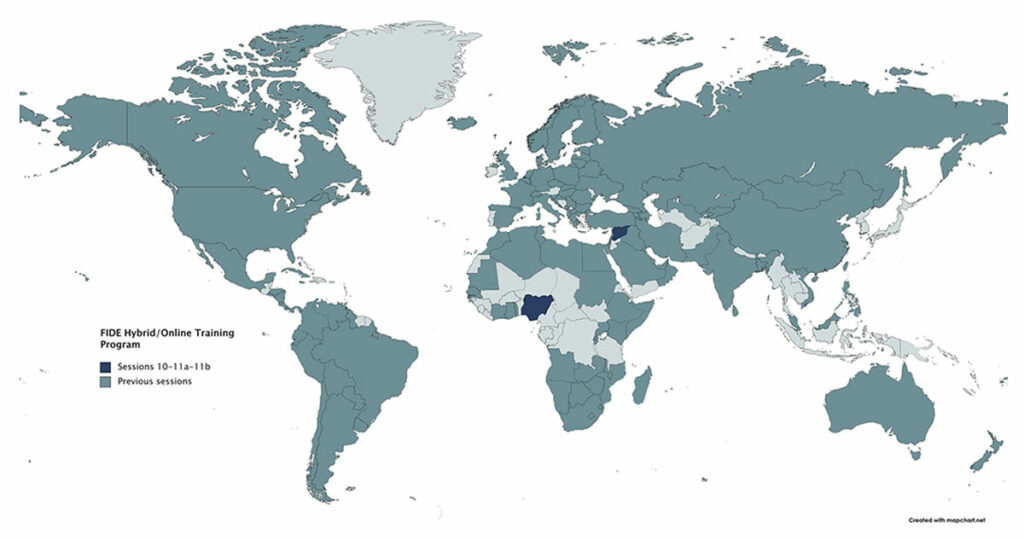 Session 10
| Title | Arbiter | Federation |
| --- | --- | --- |
| IA | Abbas, Ali | SYR |
| FA | Arauz Alonso, Fernando | ESP |
| NA | Arias Torio, Sergio | ESP |
| IA | Birk, Bojan | CRO |
| NA | Blackwood, Ryan | JAM |
| IA | Blasco De La Cruz, Luis | ESP |
| IA | Christensen, Verner | DEN |
| NA | Dahl, Torbjorn | NOR |
| IA | Diez Cabeza, Vicente | ESP |
| IA | Dommalapati, Anand | USA |
| FA | Fivelstad, Jon Olav | NOR |
| IA | Garcia Domingo, Jose Antonio | ESP |
| IA | Gil Quilez, Sonia | ESP |
| FA | Hasan, Soliman | SYR |
| IA | Kangaru, James Mwangi | KEN |
| FA | Kontogianni, Maria-Hristina | GRE |
| IA | Kontogiannis, Christos | GRE |
| FA | Litsas, Ioannis | GRE |
| IA | Mok, Tze-Meng | MAS |
| IA | Ogbonnaya, Obinna | NGR |
| IA | Prevenios, Mihail | GRE |
| FA | Reed, Louis | USA |
| NA | Sahari, Abang Mohammad Reduan | MAS |
| NA | Smith, Rajay | JAM |
| FA | Subha Rakesh | IND |
| IA | Syed Hussin, Syed Iskandar Shah | MAS |
| FA | Ungurs, Edgars | LAT |
| FA | Vishal Kumar Minz | IND |
| IA | Wang, Ying | NZL |
Session 11a
| Title | Arbiter | Federation |
| --- | --- | --- |
| NA | Ahmad, Muhd Saiful Asyraf | MAS |
| FA | Alonso Herrero, Ignacio | ESP |
| FA | Arshad, Muhammad | MAS |
| FA | Balzarini, Tiziana | ITA |
| IA | Dominguez Coig, Alvaro | ESP |
| FA | Fernandez Calabuig, Manuel Antonio | ESP |
| FA | Gertners, Gunars | LAT |
| NA | Gillanders, Robert | CAN |
| IA | Gimenez Canadas, Carlos | ESP |
| IA | Gonzalez Gandara, David | ESP |
| NA | Grabliauskas, Virginijus | LTU |
| IA | Grosar, Aljosa | SLO |
| NA | Jergovic, Andrija | CRO |
| NA | Jones, Tevaughn | JAM |
| FA | Kontogiannis, Georgios | GRE |
| FA | Korbal, Arkadiusz | POL |
| NA | Kowalczyk, Rafal | POL |
| FA | Krasiewicz, Robert | POL |
| NA | Mckim, Fred | CAN |
| FA | Olmos Olalde, Victor Hugo | MEX |
| IA | Perez Trapero, Antonio | ESP |
| NA | Pitterson, Jomo | JAM |
| NA | Prigodin, Ruslan | LTU |
| NA | Pryce, Cliffon | JAM |
| FA | Shah, Omaray M. | CAN |
| NA | Ter-Avetisjana, Agapi | LAT |
| IA | Vikas, Sahu | IND |
| FA | Wan, Corinna | CAN |
| FA | Wan, Karen | CAN |
| IA | Wright, Stephen | CAN |
Session 11b
| Title | Arbiter | Federation |
| --- | --- | --- |
| FA | Arko-Dadzie, George Kweku | GHA |
| IA | Arroyo Arce, Hugo Humberto | MEX |
| IA | Baltrunas, Arvydas | LTU |
| IA | Barrientos Carmona, Antonio | MEX |
| FA | Boyo, Paul Kehinde | NGR |
| IA | Brokko, Margit | EST |
| IA | Brownscombe, Thomas | USA |
| IA | Contoret, Bernardette Claudia | SEY |
| FA | Dzikowski, Michal | POL |
| IA | Garcia Contreras, Jesus File | PER |
| IA | Herrera, Hedzont | BOL |
| IA | Johann, Gregor | GER |
| FA | Johnsen, Sverre | NOR |
| FA | Krolikowski, Ryszard | POL |
| NA | Lehes, Leho | EST |
| IA | Nemecek, Josef | SUI |
| NA | Nurdin Uulu, Sardarbek | KGZ |
| NA | Olde, Grete | EST |
| IA | Pernici Rigo, Cristina | ITA |
| IA | Plotinsky, Leandro | ARG |
| FA | Ribeiro, Abilio Jose | ANG |
| FA | Riess, Bernhard | GER |
| NA | Schmidt, Sandra | GER |
| FA | Skiba, Krzysztof | POL |
| FA | Sztaray, Judit | USA |
| FA | Talamantez, Abel | USA |
| IA | Vaznonis, Donatas | LTU |
| IA | Wiedmann, Thomas | GER |
| IA | Wijesuriya, G. Luxman | SRI |