ARB Training Programme – Session 12
Let's speak "hybrid" as we publish about the 12th session of the ARB Online/Hybrid training programme!
One goal of the programme is to support federations, through the training of their arbiters, on the hosting of playing venues in hybrid events. The final lecture of the basic course is dedicated to hybrid chess, teaching the participants about the roles and responsibilities of a Local Chief Arbiter, emphasising which activities are rather bound to online or OTB.
Session 12 took place on the 15-16 May 2021. The following participants attended, cumulating 135 federations in the programme: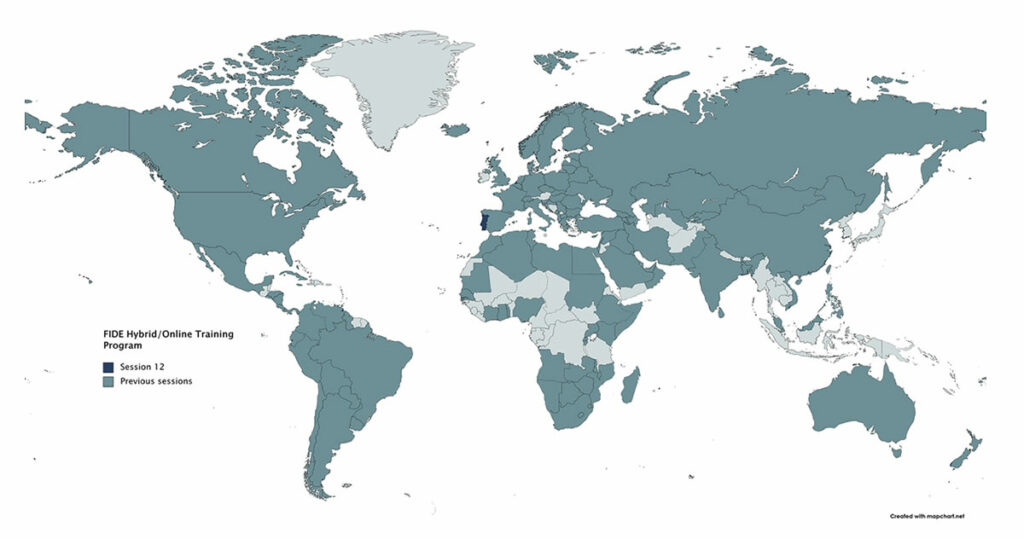 | Title | Arbiter | Federation |
| --- | --- | --- |
| IA | Andrade, Nuno Filipe | POR |
| FA | Bogdanovsky, Sonia | FRA |
| FA | Bruhn, Boris | GER |
| IA | D`arcy, Michael | AUS |
| IA | Hein, Michael | SUI |
| FA | Idiazabal Troyas, Aritz | ESP |
| IA | Kasela, Sten | EST |
| IA | Kenmure, Jamie | AUS |
| IA | Keramiotis, Michail | GRE |
| IA | King, Ronald Norman | RSA |
| NA | Koppen, Harald | GER |
| NA | Laine, Panu | FIN |
| IA | Lauritzen, Vagn | DEN |
| IA | Lim, Poay Sim | MAS |
| IA | Lopang, Tshepiso | BOT |
| IA | Martinez Hernandez, Noemi | ESP |
| IA | Milligan, Helen | NZL |
| FA | Narusberg, Peep | EST |
| FA | Narva, Jaan | EST |
| IA | Nikoladze, Sopio | GEO |
| FA | Orehek, Spela | SLO |
| NA | Papadaki, Stavroula | GRE |
| IA | Prohorov, Olexandr | UKR |
| NA | Rondon Chacon, Rene Ibrahim | VEN |
| FA | Sara, Gadalla Karar | SUD |
| NA | Schwenck, Mathias | GER |
| IA | Sedgwick, David | ENG |
| IA | Tissera, Thiwanka | SRI |
| IA | Xu, Yaping | CHN |
| NA | Zeromskis, Egidijus | CAN |