ARB Training Programme – Sessions 14 & 15
Step by step, we're building the path to the Advanced Course!
As we ran 2 more Basic Courses during the last 2 weekends, our team also progressed on designing the next steps of the training programme. In a few days, a survey will be sent to all participants to register interest for the Advanced Course and by early June, the first session will be planned.
We are happy to offer the opportunity to arbiters to follow either one or both courses, depending on their own personal interest and ambition.
Session 14 and 15 took place on the 22-23-29-30 May 2021. The following participants attended, cumulating 137 federations in the programme: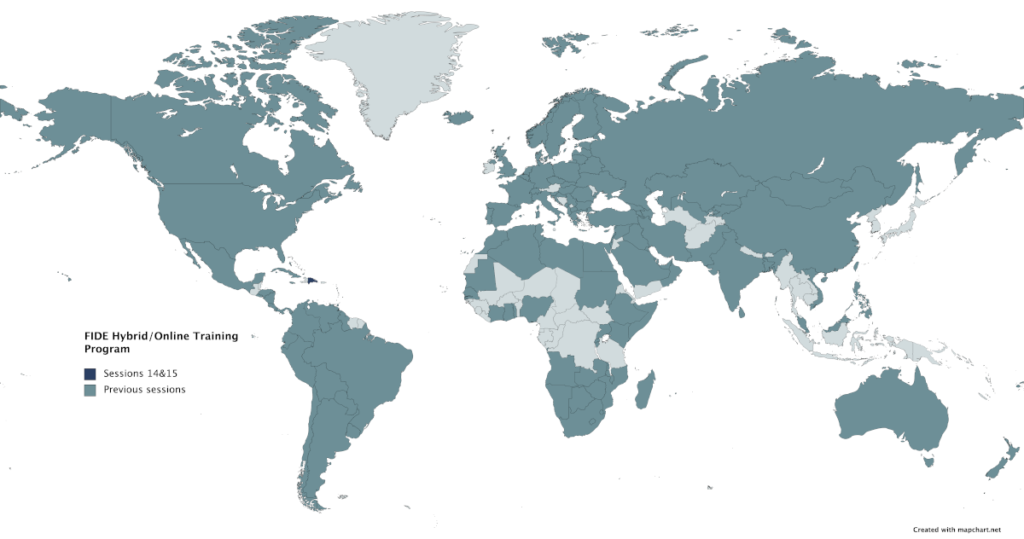 Session 14
| Title | Arbiter | Federation |
| --- | --- | --- |
| NA | Amewounou, Komlan Kouessan | TOG |
| IA | Arsenidze, Alexandre | GEO |
| NA | Avineri, Paz | ISR |
| IA | Cheong, Kok Love | MAS |
| IA | Cruz, Reden | PHI |
| FA | Ewert, Stefan | GER |
| IA | Fiedler, Wolfgang | GER |
| FA | Grosse-Honebrink, Brigitte | GER |
| IA | Guerrero, Parmenides | DOM |
| IA | Haase, Carsten | GER |
| IA | Hermida, Marcelo Mariano | ARG |
| IA | Hinrichs, Hans-Uwe | GER |
| NA | Junk, Andreas | GER |
| FA | Kikvidze, Khatia | GEO |
| NA | Law, Robert | GER |
| NA | Mohammed, Tattan | SYR |
| FA | Narcilla, Margie C. | PHI |
| IA | Petkova, Veneta | BUL |
| FA | Ryzhkov, Vjacheslav | RUS |
| NA | Tronenkovs, Valdis | LAT |
| IA | Weber, Michael | GER |
| NA | Woelfle, Fabian | GER |
Session 15
| Title | Arbiter | Federation |
| --- | --- | --- |
| FA | Alhalak, Mohammad | UAE |
| IA | Bertagnolli, Gerhard | ITA |
| FA | Breitschaedel, Oliver | GER |
| FA | De Wet, Anjurie | RSA |
| IA | Deventer, Klaus | GER |
| FA | Dhakal, Mahendra | IND |
| NA | Foster, Howien | JAM |
| NA | Norville, Joanne | LCA |
| FA | Kamaruzaman, Norazwan | MAS |
| FA | Khalil, Habib | LBN |
| IA | Mrityunjay Singh | IND |
| IA | Nedev, Zdravko | BUL |
| FA | Nesheim, Geir | NOR |
| IA | Perera, Werochana | SRI |
| NA | Philips, Denzil | AHO |
| IA | Piek, Ronel | RSA |
| FA | Poloyapoy, Felix Jr. C | PHI |
| FA | Quizhpe Cueva, Jose Luis | ECU |
| IA | Rekhson, Vladislav | CAN |
| NA | Richards, Deborah | JAM |
| NA | Schranz, Patrick | GER |
| FA | Shamrooh, Mohamed | MDV |
| IA | von Keitz, Michael | CAN |
| IA | Zerdali, Samir | ALG |
| IA | Zaiats, Vladimir | UKR |
| IA | van den Bergh, Gunther | RSA |