ARB Training Programme – Session 13
With Session 13, the ARB Training Programme crossed 400 cumulated participants!
At the end of each session, trainees are invited to fill in a survey to help us improve for the future.
So far, the overall level of satisfaction is around 4.65/5 which is very positive for us. Above all, most arbiters who answered the survey would recommend to their colleagues to attend the courses!
The education of arbiters worldwide is key for us and we will definitely use this first experience to build more offer in the future.
Session 13 took place on the 17-18-19-20 May 2021. The following participants attended, cumulating 135 federations in the programme: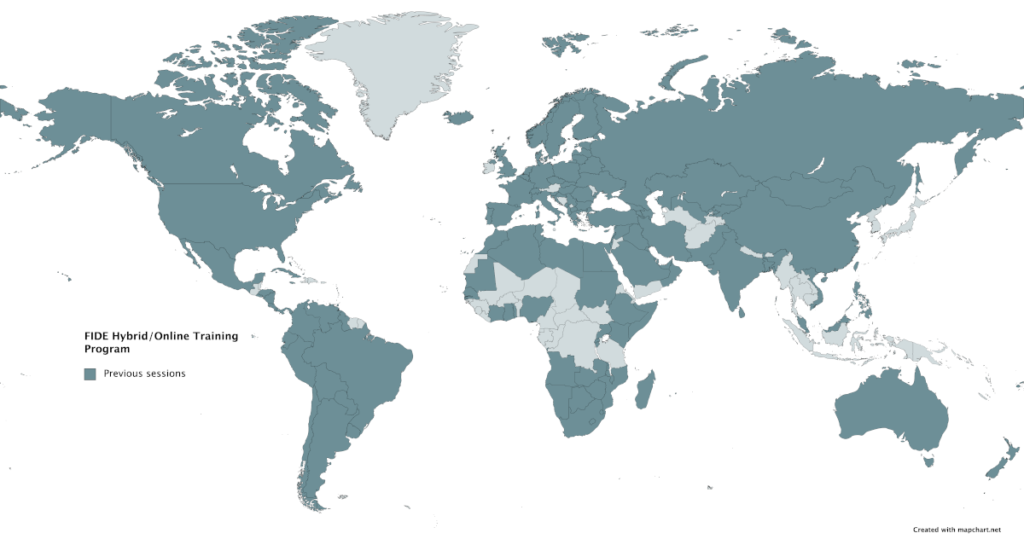 | Title | Arbiter | Federation |
| --- | --- | --- |
| FA | Al Kharusi, Ahmed | OMA |
| NA | Alsaed, Hamad | SYR |
| FA | Ariff, Syawal Aqmar Shahrir | MAS |
| NA | Bjelanovic, Nemanja | SRB |
| FA | David, Dorian-Ciprian | ROU |
| IA | Ferreira, Marius | RSA |
| FA | Gabriel, Peter | GER |
| FA | Jorgensen, Truls | NOR |
| IA | Kacar, Yasemin | TUR |
| FA | King, Eduard Norman | RSA |
| NA | Kolar, Karl-Ustav | EST |
| IA | Martinez, M Catalino | PAR |
| FA | Mohammed Awad | SUD |
| FA | Mrozinska, Anna | POL |
| NA | Nunez Gonzalez, Neeshmy | CRC |
| FA | Piechot, Steffen | GER |
| IA | Raetsky, Alexander | RUS |
| NA | Serieux, Kenwin | LCA |
| IA | Tsypin, Vadim | CAN |
| NA | Vargas Cortes, Gustavo | MEX |
| IA | Vashurin, Artur | RUS |
| NA | Vraimakis, Ioannis | GRE |
| IA | Wang, Junnan | CHN |
| FA | Winfridsson, Hakan | SWE |
| IA | Yildirim, Yucel | TUR |
| IA | Yordanov, Nikolay | BUL |
| IA | Yordanova, Svetla | BUL |