ARB Training Programme – Basic Session 16 & Advanced 01
Chief Arbiters, let's gooooooo!
We're reaching the last sessions of the Basic Course (a very last one for now is scheduled next weekend) and now the Advanced Course is born!
This second level of training is now focusing on the role of Chief Arbiter: planning, staffing, communicating, managing a team, dealing with incidents … So many areas that you have to deal with when supervising an online or hybrid event!
The first Advanced Course Session saw many experienced colleagues attend and actively participate. We are excited to plan a few more sessions till the beginning of July!
Basic Session 16 took place on the 7-8-9-10 June 2021. The following participants attended, cumulating 139 federations in the programme: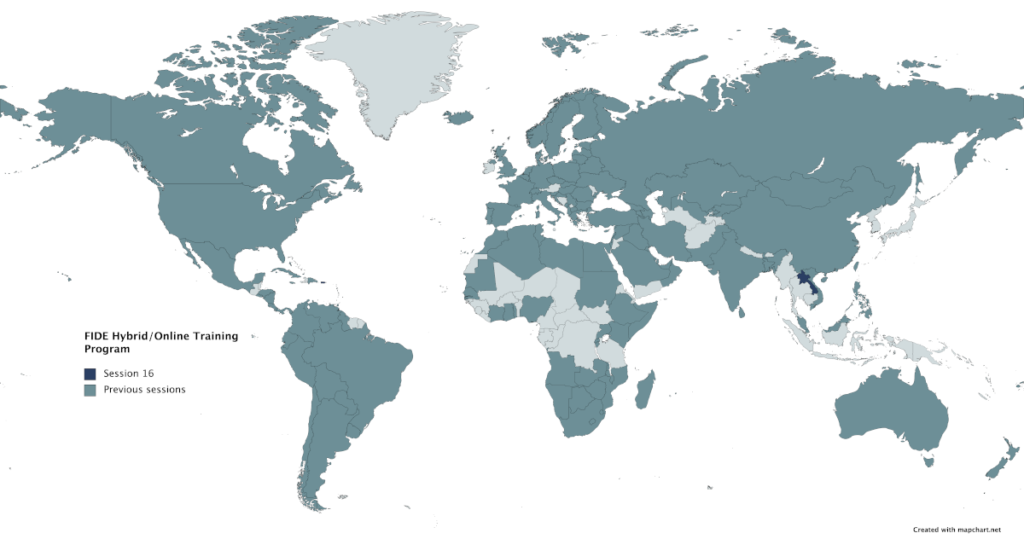 Basic Session 16
| Title | Arbiter | Federation |
| --- | --- | --- |
| FA | Ameku, Philip Elikem | GHA |
| IA | Baralic, Nebojsa | SRB |
| NA | Barradas, Jose Manuel | MEX |
| NA | Berezovska, Svetlana | MNC |
| NA | Bhowany, Koomaren | MRI |
| NA | Chanthavongsa, Xayophone | LAO |
| FA | Ibanez, Rudy | PHI |
| FA | Kleifges, Matthias | GER |
| IA | Klerides, Paris | CYP |
| IA | Mihevc-Mohr, Narcisa | SLO |
| FA | Mumba Isaac | MAW |
| IA | Mutschelknaus, Yves | GER |
| FA | Prodromidis, Spyros | CYP |
| IA | Shakari, Saeed Yousuf | UAE |
| IA | Slami, Zoheir | MAR |
| FA | Soto Gonzalez, Ismael R. | PUR |
| FA | Suarez Roa, Jose Francisco | ESP |
| IA | Vega Adorno, Cristobal | PUR |
| NA | Vilavane, Inthava | LAO |
| FA | Yeten, Huseyin | CYP |
Advanced Session 01 was organised on the same days, with the following participants:
| Title | Arbiter | Federation |
| --- | --- | --- |
| NA | Abozenko, Georg | EST |
| IA | Bertagnolli, Gerhard | ITA |
| FA | Bryan, Mark | CYP |
| IA | Caliskan, Ismail | TUR |
| IA | de San Vicente, Sabrina | URU |
| IA | Denommee, Pierre | CAN |
| NA | Gaitan, Norlan | NCA |
| IA | Garcia Domingo, Jose Antonio | ESP |
| FA | Hawas, Khaled | EGY |
| IA | Hernandez Bermudez, Ulises Eduardo | VEN |
| FA | Kamaruzaman, Norazwan | MAS |
| IA | Kingoina, Peter Duke Michieka | KEN |
| IA | Klueners, Juergen | GER |
| NA | Lindo, Terence | JAM |
| FA | Maher Musa | SUD |
| IA | Martinez Hernandez, Noemi | ESP |
| IA | Nikolopoulos, Panagiotis | GRE |
| FA | Okoro, Aderemi Bankole Mubarak | TOG |
| FA | Orehek, Spela | SLO |
| NA | Pagaran, Michael Joseph | PHI |
| IA | Prevenios, Mihail | GRE |
| FA | Ribeiro, Abilio Jose | ANG |
| IA | Rimestad, Arild | DEN |
| FA | Rojas Villamil, Pedro | COL |
| IA | Shenvi, Nitin | IND |
| IA | Sikora, Jan | CZE |
| IA | Tabti, Merouane | ALG |
| IA | van den Bergh, Gunther | RSA |
| NA | Vargas Cortes, Gustavo | MEX |
| IA | Yang, Brian | USA |
| IA | Zaiats, Vladimir | UKR |