ARB Training Programme – Basic Session 17 & Advanced 04
One hundred and forty-two !!! This is the final number of federations who had at least 1 arbiter actually attending our training programme. It represents more than 7 federations out of 10 – probably that only the Olympiads score better in terms of wide attendance. Well done to our dear 500 colleagues Arbiters who contributed to this record !
Session 17 closes the Basic Course for the initial programme. However, in the future, the course will continue to be scheduled for colleagues who wish to learn about online and hybrid chess for Arbiters.
Wishing great tournaments to all those who took part in the programme and spread the knowledge in your federations!
Basic Session 17 took place on the 19-20 June 2021. The following participants attended, cumulating 142 federations in the programme: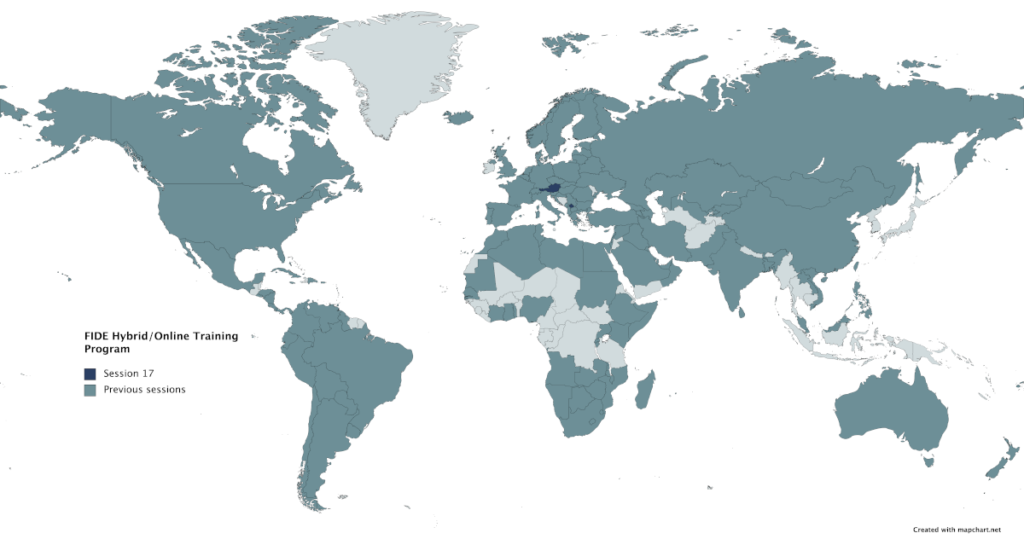 Basic Session 17
| Title | Arbiter | Federation |
| --- | --- | --- |
| FA | Berisha, Agon | KOS |
| IA | Broich, William | USA |
| IA | Dias, Carlos Oliveira | POR |
| FA | Gerguri, Fatmir | KOS |
| NA | Guimaraes, Rui | POR |
| IA | Kastner, Walter | AUT |
| FA | Kehr, Juergen | GER |
| IA | Lagerman, Robert | ISL |
| FA | Marinello, Dario | ITA |
| FA | Msibi, Dumsane | SWZ |
| FA | Navalta, Ricky | PHI |
| NA | Neri, Susan Grace | PHI |
| NA | Pitterson, Jonathan | JAM |
| NA | Richards, Deborah | JAM |
| FA | Roderick Plant | LAO |
| IA | Ruetten, Michael | GER |
| FA | Serag El Din, Moheb | EGY |
| FA | Tuul, Tarmo | EST |
| FA | Wang, She-Yung Christina | TPE |
Advanced Session 04 was organised on 12-13-19-20 June 2021, with the following participants:
| Title | Arbiter | Federation |
| --- | --- | --- |
| IA | Andrade, Nuno Filipe | POR |
| NA | Bennion, William Robert Raymond | FIJ |
| IA | Birk, Bojan | CRO |
| IA | Brokko, Margit | EST |
| IA | Christensen, Verner | DEN |
| IA | Dimitrijevic, Aleksandra | SRB |
| IA | Gerontopoulos, Prodromos | GRE |
| IA | Gimenez Canadas, Carlos | ESP |
| IA | Hall, Craig | NZL |
| NA | Ishdagva, Otgonbat | MGL |
| IA | Jerdy, Rafael Rafic Roncoli | BRA |
| FA | Kim, Chris | USA |
| FA | King, Eduard Norman | RSA |
| FA | Kontogianni, Maria-Hristina | GRE |
| FA | Kouya, Tyeoulou Bernadin Franklin | CIV |
| IA | Lopang, Tshepiso | BOT |
| IA | Mkumbwa Gilton | MAW |
| NA | Mohammed, Tattan | SYR |
| IA | Oyunchimeg, Genden | MGL |
| FA | Piechot, Steffen | GER |
| IA | Polovina, Elena | RUS |
| IA | Rasmussen, Per | DEN |
| IA | Sedgwick, David | ENG |
| IA | Segovia, Luis Alberto | BOL |
| FA | Sharata, Ahmed | LBA |
| FA | Sztaray, Judit | USA |
| FA | Taljaard, Karen | RSA |
| NA | Tirador, Elias | GUM |
| FA | Urbina Quiroz, Edwin | CRC |
| NA | Woelfle, Fabian | GER |