ARBITERS' COMMISSION 23rd Internet based FIDE Arbiters' Seminar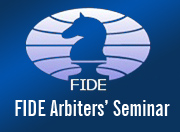 From 8 to 12 April 2013 the 23rd Internet based FIDE Arbiters' Seminar was held, organized by the FIDE Arbiters' Commission and under the auspices of FIDE.
The lecturer of the Seminar was IA Werner Stubenvoll (AUT), FIDE Arbiters' Commission Councilor and FIDE Lecturer, and Technical Organizer was IA Mihail Prevenios (GRE).
The language of the Seminar was English.
Twenty three (23) people from thirteen (13) Federations (Tunisia, Turkey, Greece, Austria, Mauritius, USA, South Africa, Netherlands, Indonesia, France, Botswana, Kazakhstan and Nigeria ) attended the seminar on Internet and twenty (20) of them participated in the on line examination test.
The following succeeded in the test and will be awarded a norm or the title of FIDE Arbiter, after the approval of the next FIDE Presidential Board:
NAME FED FIDE I.D.
—————————————————————————–
| | | | | |
| --- | --- | --- | --- | --- |
| Ben Fredj, Jawhar | Tunisia | 5502543 | | |
| Eriskin, Ekinhan | Turkey | 6393390 | | |
| Karadimitriou, George | Greece | 4235347 | | |
| Lieb, Daniel | Austria | 1637550 | | |
| Malataras, Panagiotis | Greece | 4289846 | | |
| Raimbert, Ronald | Mauritius | 97000250 | | |
| Ruiz, Alejandro | USA | 2037246 | | |
| Steyn, Lynette | South Africa | 14310988 | | |
| van Roon, Ton | Netherland | 1044028 | | |
IA Panagiotis Nikolopoulos
Chairman
FIDE Arbiters' Commission