FIDE Arbiters' Seminar in Al Ain, UAE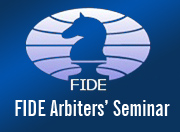 From 27 to 30 November 2012 a FIDE Arbiters' Seminar was organized in Al Ain, UAE, by the Al Ain Chess Club, in cooperation with the Asian Chess Federation and under the auspices of FIDE.
The Lecturer was IA Casto Abundo (PHI), ACF Deputy President and FIDE Lecturer and Assistant Lecturer was IA Mehrdad Pahlevanzadeh (IRI), ACF Treasurer and FIDE Lecturer.
The language of the Seminar was English.
22 people from UAE, Ukraine, Oman, Iran, Jordan, Syria, Egypt and Iraq participated in the Seminar and in the examination test, held after the end of the lectures.
The following succeeded in the test and they will be awarded a norm or the FIDE Arbiter title, after the approval of the next FIDE presidential Board:
Ali, Ebraheem (JOR)
Saeed Mohamed, Fatmah (UAE) (w)
Ahmad, Adel Ahmad (EGY)
Al Darmaki, Aisha (UAE)
Al Argah, Heba (SYR) (w)
Al Najjar, Huba (SYR) (w)
IA Panagiotis Nikolopoulos
Chairman
FIDE Arbiters' Commission
800×600
Normal 0 false false false EN-US X-NONE X-NONE MicrosoftInternetExplorer4 /* Style Definitions */ table.MsoNormalTable {mso-style-name:"Table Normal"; mso-tstyle-rowband-size:0; mso-tstyle-colband-size:0; mso-style-noshow:yes; mso-style-priority:99; mso-style-parent:""; mso-padding-alt:0cm 5.4pt 0cm 5.4pt; mso-para-margin:0cm; mso-para-margin-bottom:.0001pt; mso-pagination:widow-orphan; font-size:10.0pt; font-family:"Times New Roman","serif";}