FIDE Arbiters' Seminar in Rishon Letzion, ISRAEL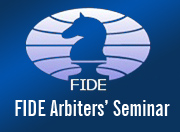 From 3 to 5 June 2015 a FIDE Arbiters' Seminar was organized in Rishon Letzion, Israel, by the Israel Chess Federation, under auspices of FIDE.
The lecturer was IA Almog Burstein (ISR), Member of the FIDE Technical Commission and FIDE Lecturer. The assistant lecturers were IA's Malkiel Peretz and Shlomo Kandelshine.
Twelve (12) Arbiters from Israel participated in the Seminar.
All of them participated in the examination test, held after the end of the lectures and the following succeeded in the test and will be awarded a norm for the FIDE Arbiter title after the approval of the next FIDE Congress:
2807661 Zak Uri (ISR)
2809702 Shimonovich Yoav (ISR)
2804921 Azar Pinchas (ISR)
2805995 Linik Yaron (ISR)
2808910 Weinstein Shaul (ISR)
2800896 Gutkin Boris (ISR)
IA Panagiotis Nikolopoulos
Chairman
FIDE Arbiters' Commission