Green light for the Green Panel 2022-2023!
There are some days when you are particularly proud of your team. This Wednesday 18 May 2022 is one of them!
As you may know, FIDE recently introduced panels for the selection of Arbiters in World Events. These pools of Arbiters are primarily an operational tool for FIDE and Organizers to recruit Arbiters in official events. "Primarily", because the FIDE Arbiters' Commission also has the ambition to use them as a vector of quality improvement.
The Green Panel is a list of 20 Arbiters from the 4 Continents, eligible to be Chief Arbiters in the top FIDE events in 2022 and 2023. When Laurent Freyd, ARB Chairman, addressed his congratulations to the recently selected members in April, he also shared his wish to see the panels as a development tool for our community of Arbiters. The idea was to go beyond the simple fact of being eligible for tournaments and put in common the brain power of experienced colleagues, for the benefit of the chess family.
Being appointed as an Arbiter in a top event is not an end, it's a start!
So, today afternoon, a first session was organised with the group, to remind the vision behind the panels and how the Commission relies on senior arbiters to play a role model for their colleagues in tournaments. Then, followed a more interactive sequence started, in the form of a brainstorming on the topic "Do's, Don'ts and Best Practices for Arbiters in Tournaments".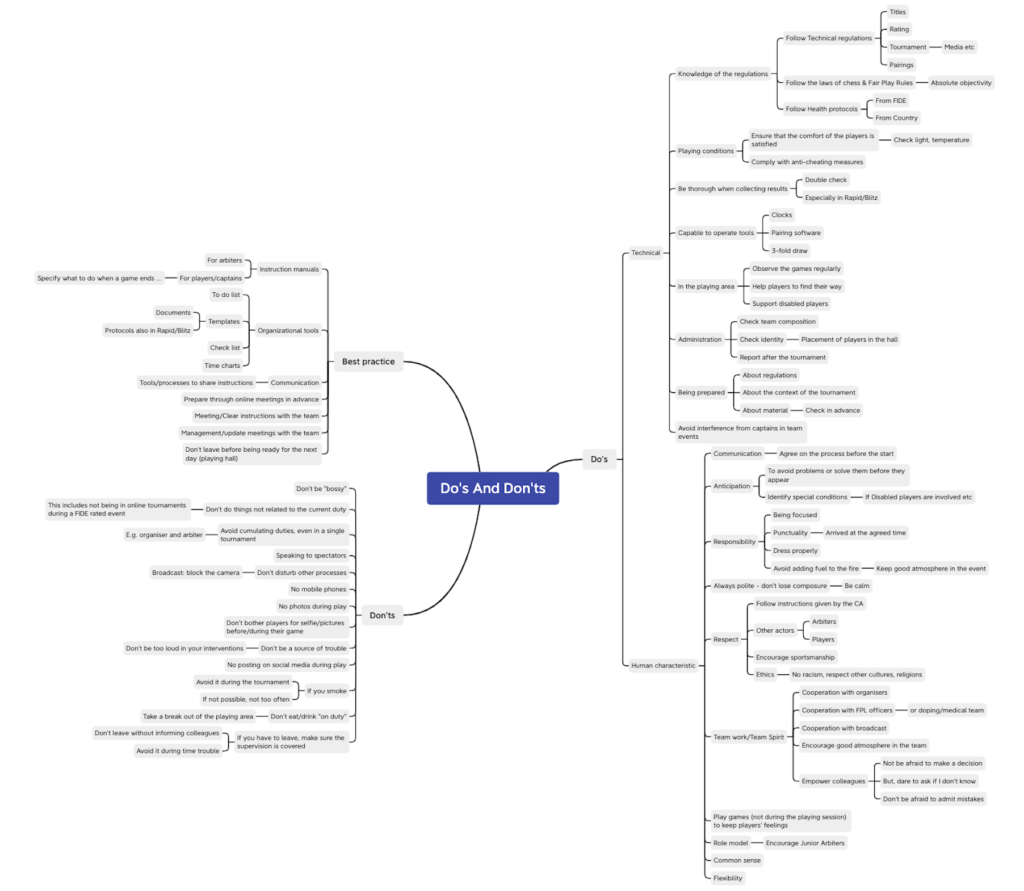 Every participant was very much involved and the team could collect many interesting ideas on the topic. This is only a starting point: the ambition is to use this work to produce some useful material for the community and contribute to the global development of Arbiters.
For those of you who counted the thumbnails on the picture, you already understood that out of the 20 members of the panels, 19 were actively present today and the 20th had asked in advance for the recordings, as he was on duty in a tournament. This demonstrates the commitment of our colleagues to help the community and the ARB Commission is immensely grateful to them! Also a special thanks to Nebojsa Baralic, Secretary of the commission, for his great support in the preparation.
Those who regularly follow our work are familiar with our "step by step" approach. So, our ambition is also to gradually involve the other panels in such initiatives, to have a maximum of colleagues involved in supporting quality improvement in the Arbiters' sector!
Gens una sumus!