FIDE Arbiters' Seminar in Al Ain, UAE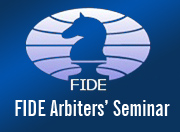 From 19 to 27 December 2013 a FIDE Arbiters' Seminar was organized in Al Ain, UAE, by the FIDE Arbiters' Commission in cooperation with the Organizing Committee of the World Youth Championships 2013 and under the auspices of FIDE.
The lecturer was IA Werner Stubenvoll (AUT), FIDE Arbiters' Commission Councilor and FIDE Lecturer.
The lectures were in English language.
Twenty seven (27) people from USA, Norway, Uzbekistan, Kenya, Burundi, Palau, Zimbabwe, Bahrain, Iraq, Palestine and Somalia participated in the Seminar and twenty four (24) of them participated in the examination test, held after the end of the lectures.
The following succeeded in the test and will be awarded a norm or the title of the FIDE Arbiter, after the approval of the next FIDE Presidential Board:
Dommalapati, Anand USA ID 2091402
Nordquelle, Pal NOR ID 1519050
Vakhidov, Tahir UZB ID 14200155
Iuldachev, Saydali UZB ID 14200104
Salman, Ahmed Aldori IRQ ID 4800664
Abdulghaffar, Jamal BRN
Khimulu, Rehema Maria KEN ID 10800808
Maina, Purity KEN ID 10800514
Luphala, Vumani ZIM ID 11001747
Saad, Abdul Hussein Hatef IRQ
Wanjala, Benard KEN ID 10801561
Blessing, Jemani ZIM
Ntagasigumwami, Deo BDI ID 20300034
Whipps, Eric Ksau PLW ID 16600550
Zeferino Viegas, Tilman TLS
Al-Esawi, Ali IRQ ID 4808401
Abdulkareem Ismael Tawfeeq IRQ ID 4809661
Saad, Mohsin Hussein IRQ ID 4808304
IA Panagiotis Nikolopoulos
Chairman
FIDE Arbiters' Commission