FIDE Arbiters' Seminar in New Delhi, INDIA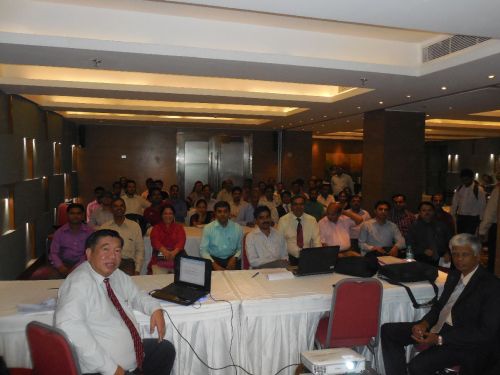 From 30 June to 2 July 2014 a FIDE Arbiters' Seminar was organized in New Delhi, India, by the All India Chess Federation, in cooperation with the Asian Chess Federation and under the auspices of FIDE.
The Lecturer was IA Casto Abundo (PHI), Asian Chess Federation Deputy President and FIDE Lecturer, and Assistant Lecturer was IA Prof. R. Anatharam (IND).
The lectures were in the English language.
Fifty four (54) National Arbiters from India and Kenya participated in the Seminar and in the examination test held after the lectures. The following succeeded in the test and they will be awarded a FIDE Arbiter Norm, after the approval of the next FIDE Presidential Board:
| | | |
| --- | --- | --- |
| Name | FED | SEX |
| Anuj Shingari | IND | M |
| Chaman Lal | IND | M |
| Govindankutty MS | IND | M |
| Hardeep Singh Arora | IND | M |
| Hemant Tewatia | IND | M |
| Kavita Patel | IND | F |
| Mohit Shenvi | IND | M |
| Naveen Bansal | IND | M |
| Neeraj Sharma | IND | M |
| Sanjiv Sharma | IND | M |
| Sudarshan Kumar | IND | M |
| Swati Bhatt | IND | F |
| Ajeet Kumar Verma | IND | M |
| Arghya Arpan Parida | IND | M |
| Atharva Godbole | IND | M |
| Biswajita Mohanty | IND | F |
| Biswanath Banerjee | IND | M |
| Jitendra Choudhary | IND | M |
| Mrinal Ghosh | IND | M |
| Shamsudheen P | IND | M |
| Sureshkumar TJ | IND | M |
| Bindu Pathania | IND | F |
| Kazmi S Athar Abbas | IND | M |
| Minhajul Haque | IND | M |
| Prasenjit Datta | IND | M |
| Rahul Gupta | IND | M |
| Arbind Kumar Singh | IND | M |
| Arun Kumar G | IND | M |
| Phani Kumar NM | IND | M |
| Pukhraj Malhotra | IND | M |
| Qmar Abbas | IND | M |
| Raghwendra Pratap Singh | IND | M |
| Raval Dilipkumar | IND | M |
| Subramaniam N | IND | M |
| Syed Irshad | IND | M |
| Debobrata Das | IND | M |
| Deepak Gulabsing Ade | IND | M |
| Preetha S | IND | F |
| Ravi Kiran D J | IND | M |
| Shyam Sundar T | IND | M |
| Vaychal Deepak Prabhakar | IND | M |
| Bharat Bhushan | IND | M |
| Mali Suraj Suryakant | IND | M |
| Paras Gudka | KEN | M |
| Shivkant Mishra | IND | M |
| Shripad K V | IND | M |
| Vikram Singh | IND | M |
| Mangesh Ghimire | IND | M |
| Murali GVR | IND | M |
| Guruvayoorappan CK | IND | M |
| Kalsi KS | IND | M |
| Milind Balkrishna Naik | IND | M |
IA Panagiotis Nikolopoulos
Chairman
FIDE Arbiters' Commission