FIDE Arbiters Seminar in Khanty-Mansiysk, RUSSIA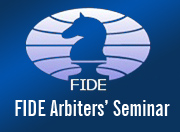 FIDE Arbiters' Seminar (in Russian language) in Khanty-Mansiysk, RUSSIA
From 27 September to 3 October 2010 a FIDE Arbiters' Seminar was organized in Khanty-Mansiysk, Russia, by the Russian Chess Federation and under auspices of FIDE.
The lecturer was IA Ashot Vardapetian (ARM), FIDE Lecturer, and Assistant Lecturer was IA Igor Bolotinsky (RUS).
The Seminar was held during the 39th Chess Olympiad and the lectures were in Russian language.
Thirty (30) arbiters from Russia, Belarus and Afghanistan attended the Seminar and fifteen (15) of them participated in the examination test held after the end of the lectures.
The following eight (8) succeeded in the examination test and will be awarded a norm for the title of the FIDE Arbiter, after the approval of the next FIDE Congress:
Moskvin Aleksey (RUS)
Shiriaev Aleksandr (RUS)
Glukhov Viktor (RUS)
Druzhinina Nalia (RUS)
Kazakov Vladimir (RUS)
Potapenko Aleksey(RUS)
Kostrov Andrei (RUS)
Brjukhachev, Yury (RUS)
IA Panagiotis Nikolopoulos
Chairman
FIDE Arbiters' Commission