DISABLED COMMISSION'S FIDE Arbiters' Seminar in Dresden, GERMANY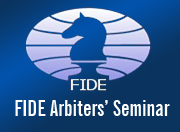 From 21 to 24 October 2015 a FIDE Arbiters' Seminar was organized in Dresden, Germany, by the FIDE Commission for Chess for the Disabled (DIS), in cooperation with the German Chess Federation and under auspices of FIDE.
The seminar was held during the World Chess Championship for Disabled in the same venue. All participants got also practice as Arbiters in this World Championship.
The lecturer was IA Juergen Kohlstaedt (GER), FIDE Lecturer and Assistant Lecturers were IA Jamie Kenmure (AUS), IA Juergen Klueners (GER), and IA Egmont Poenisch (GER).
Thomas Luther (GER), Chairman DIS, gave a guest lecture about special issues for disabled players.
The lectures were in English and German language.
Sixteen (16) National Arbiters and one International Arbiter from Switzerland participated in the seminar. Fifteen (15) national arbiters participated in the examination test, held after the end of the lectures.
The following succeeded in the test and will be awarded a norm for the FIDE Arbiter title, after the approval of the next FIDE Congress:
LAST NAME

FIRST NAME

FED.

FIDE

I

.

D

.

Altenburg

Nils

GER

12907928

Bruhn

Boris

GER

4626125

Jordan

Dirk Dr.

GER

4655095

Käck

Ralf

GER

24619213

Kubiak

Holger

GER

12923010

Luther

Helmut

GER

4697766

Mißbach

Bernd

GER

4682980

Rehfeldt

Andreas

GER

24639478

Reipsch

Jens

GER

4627474

Schiefelbusch

Dirk

GER

4694139

Springer

Guido

GER

4669177

Stets

Eckart

GER

12935638

Szudra

Heinz-W.

GER

4670949

Zimmermann

Rene

GER

24624349
IA Takis Nikolopoulos
Chairman
FIDE Arbiters' Commission