45th HONDURAS Internet based FIDE Arbiters' Seminar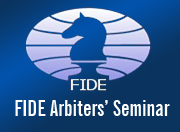 From 31 May to 5 June 2016 the 45th Internet based FIDE Arbiters' Seminar was held, organized by the Chess Federation of Honduras and under the auspices of FIDE.
The lecturer of the seminar was IA Santiago Garcia Ramos (MEX), FIDE Lecturer and the Technical Organizer was IA Hector Mejia Espinal (HON).
The Lectures were in Spanish language.
Six (6) Arbiters from five (5) federations (Spain, Argentina, Costa Rica, Honduras and Mexico) attended the seminar on Internet and participated in the examination test held after the lectures.
The following succeeded in the test and will be awarded a norm for the title of FIDE Arbiter, after the approval of the next FIDE Congress:
N

AME

FEDERATION

Ángel Mariano Rodríguez Pérez

Spain

Carlos Roberto Ruiz de Toro

Spain

Paris, Pablo Alejandro

Argentina

Alexis Murillo Tsijli

Costa Rica

Pio Arnoldo Herrera Garcia

México

Yelso Fabricio Bobadilla Sabillon

Honduras
IA Takis Nikolopoulos
Chairman
FIDE Arbiters' Commission