48th INTERNET based FIDE ARBITERS' SEMINAR (in English language)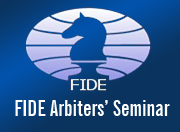 From 25 to 30 October 2016 the 48th Internet based FIDE Arbiters' Seminar was held, organized by the FIDE Arbiters' Commission and under the auspices of FIDE.
The lecturer and the Technical Organizer of the seminar was IA Mihail Prevenios (GRE), FIDE Lecturer and Assistant Lecturer was IA Sotiris Logothetis (GRE).
The Lectures were in English language.
Thirty-four (34) Arbiters from seventeen (17) Federations (Costa Rica, England, Ethiopia, Finland, Ghana, Greece, India, Ireland, Italy, Kenya, Kuwait, Netherlands Antilles, New Zealand, South Africa, Russia, South Sudan and Zimbabwe) attended the seminar on Internet and participated in the
examination test held after the lectures.
The following succeeded in the test and will be awarded a norm for the title of FIDE Arbiter, after the approval of the next FIDE Congress:
| | | |
| --- | --- | --- |
| Name | FED | FIDE ID |
| Ameku Philip | GHA | 12600326 |
| Attah Elikem | GHA | 12600318 |
| Baburin Ivan | IRL | 2508672 |
| Brigati Alessandro | ITA | 823082 |
| Christodoulaki Tonia | GRE | 4214935 |
| de Winnaar Benjamin | RSA | 14320142 |
| Doppioni Mauro Dante | ITA | 808490 |
| H Santhanam | IND | 5011469 |
| Kajee Yusuf | RSA | 14322641 |
| Ramírez Joan | CRC | 6505007 |
| Riga Niki | GRE | 4222822 |
| Roukounakis Michael | GRE | 4222849 |
| Sheridan Tristan | IRL | 2505258 |
| Sidiropoulos Leonidas | GRE | 4222954 |
| Stamos Filippos | GRE | 4242807 |
| Stilli Gabriele | ITA | 840203 |
| Wang Ying | NZL | 4307011 |
| Zermian Federico | ITA | 828750 |
IA Takis Nikolopoulos
Chairman
FIDE Arbiters' Commission