55th INTERNET based FIDE ARBITERS' SEMINAR (in English language)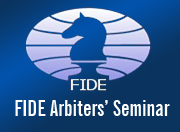 From 22 to 27 January 2018 the 55th Internet based FIDE Arbiters' Seminar was held, organized by the FIDE Arbiters' Commission and under the auspices of FIDE.
The lecturer of the seminar was IA Mihail Prevenios (GRE), FIDE Lecturer.
The Lectures were in English language.
Forty nine (49) people from twenty nine (29) Federations (ARM, BRA, COL, CZE, DEN, ETH, ESP, FRA, GRE, HKG, IND, ITA, MAR, MDV, MLT, NED, NGR, NOR, NZL, PHI, POL, ROU, RSA, SSD, SOM, SUR, SWE, TUR, USA) attended the seminar on Internet and forty eight (48) of them participated in the examination test held after the lectures.
The following succeeded in the test and will be awarded a norm for the title of FIDE Arbiter, after the approval of the next FIDE Presidential Board:
Surname

First name

FED

FIDE ID

Abulka

Prashanth

IND

25660055

Denissen

Erwin

NED

1007297

Dessalgen

Getachew

E

TH

15703118

Garcia Domingo

Jose Antonio

ESP

2221845

Grima

Noel

MLT

5600588

Hamdouchi

Adina Maria

FRA

1206435

Hungaski

Robert

USA

2021030

Louis

Sanchez

FRA

624225

Marinello

Dario

ITA

2808108

Martirosyan

Ani-Odeseya

ARM

13304356

Olivo

Paolo

ITA

804169

Paganoglou

Anastasia

GRE

4211820

Parol

Krzysztof

POL

1119818

Ramdat Tewarie

John

SUR

8200491

Ratanlal

Kalka

S

UR

8202834

Rietter

Luciano

BRA

22702440

Schoeman

Suzette

RSA

14310554

Sikora

Jan

CZE

305405

Stavropoulos

Aris

GRE

4291760

Sutil

Yolande

RSA

14306522

Turzyńska

Grażyna

POL

1138430

Vieira

Matthieu

FRA

26060310

Viljoen

Josias

RSA

14330440

Westerduin

Philip

NED

1014269

Winfridsson

Hakan

SWE

1706292
IA Takis Nikolopoulos
Chairman
FIDE Arbiters' Commission