FIDE Arbiters' Seminar in Riyadh, Saudi Arabia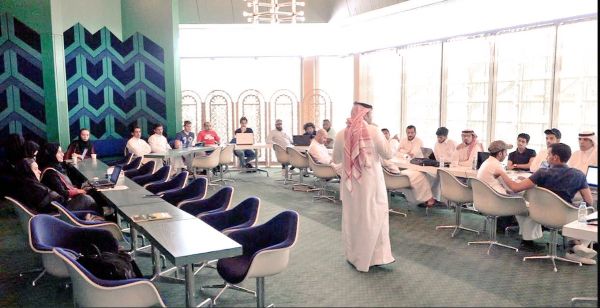 From 29 July to 2 August 2018 a FIDE Arbiters' Seminar was organized in Riyadh, Saudi Arabia, by the Saudi Chess Federation, in cooperation with the Asian Chess Federation and Leadership Institute and under auspices of FIDE.
The Lecturer of the seminar was IA Yasser Al Otaibi (KSA), FIDE Lecturer and Assistant Lecturer was Agami, Ahmed (EGY).
The venue of the Seminar was the Green Arena in Riyadh.
The lectures were in Arabic language.
Thirty-seven (37) people from Saudi Arabia participated in the Seminar and Thirty four (34) of them participated in the examination test held after the end of the lectures. The scores of the participants are as follows:
| | | | |
| --- | --- | --- | --- |
| FIDE I.D. | FED | S | NAME |
| 21515905 | KSA | M | Alotaibi Abdulelah D |
| 21517649 | KSA | M | Alsulami, Sultan A |
| 21517665 | KSA | M | Alrasheed,Hamed K |
| 21517657 | KSA | M | Alfarraj, Kalid Y |
| 21516111 | KSA | M | Gamdi, Mohmmde M |
| 21516138 | KSA | M | Al Otaibi Saud Saad |
| 21516294 | KSA | M | Al Fadel, Faleh A |
| 21517746 | KSA | M | Alsuhaibani,Abdurahman S |
| 21511390 | KSA | M | Alsulaymi, Abdullah M |
| 21517703 | KSA | M | Mohammed, Tareq A |
| 21512558 | KSA | F | Al Harbi, Gada |
| 21517673 | KSA | M | Altarisg,Jaber S |
| 21512620 | KSA | F | Al Qubaishi, Afnan |
| 21516146 | KSA | M | Al Otaibi Mohammad Motlaq |
| 21515875 | KSA | M | Bilali, Wael M |
| 21515867 | KSA | M | Alabbas, Mohammed M |
| 21517630 | KSA | M | Alhabib, Saleh K |
| 21517690 | KSA | M | Albasri, Bader A |
| 21515891 | KSA | F | Alsharef, Zekra M |
| 21517754 | KSA | M | AlOtaibi, Hamod S |
| 21501807 | KSA | M | Al Sadeq, Mohammed |
IA Takis Nikolopoulos
Chairman
FIDE Arbiters' Commission